About The Author
Hello friends,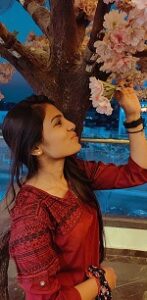 This is Namrata Shah and I am a professional blogger. I have been a professional blogger for 4 years and have keen interest in researching different bugs like windows, software bugs, exceptions handling, programming bugs, bed bugs, ticks and so on.
Furthermore, Bugs-borne diseases are increasing rapidly in the present time. Insects are not only the cause of physical ailments but also cause many types of mental diseases. That's why everyone adopts different ways to get rid of them.
I have done a very deep study on the behavior of bugs, how to deal with them and how to get rid of them. And the purpose of this blog is to help people who are troubled because of pest related problems.
Goal of Bugs Solution
Through this blog I want to help my readers in finding smart DIY ways to solve pest related problems. Also, I want to make my readers aware about the different species and behavior of different kinds of insects or bugs so that whenever they encounter with any bug, they must know how to deal with it.
How We will Help You?
At the most, I will try to tell you ways to avoid bugs in a natural way so that you can save your valuable money. But if you are still not getting rid of it, then I will tell you many other ways too, so that you can keep your house safe from bugs.
The best thing is that all the techniques mentioned in this blog will be DIY techniques. Which you can do yourself without hiring any professional.
How to Contact Us?
If we are unable to assist you through blog articles then you can also contact us. Our expert team will give you the solution to your problem via email within 48 hours.
You can also directly email us at: info.bugssolution@gmail.com