Tenant to Tenant Migration refers to the process of moving firm data, applications, and other resources from one Microsoft 365 tenant to another. It comes in handy particularly when you're transitioning from one cloud provider to another. After Migration, remote workers can securely access their data on Virtual Desktop whenever they want.
Increasingly, cross-tenant migrations are being carried out in response to shifts in administrative circumstances like mergers, acquisitions, and divestitures. Sometimes, these migrations are also undertaken to streamline operations, reduce administrative burdens, and consolidate IT infrastructure to improve business efficiency.
Why is it vital to plan?
Proper planning is required to make sure your Microsoft tenant-to-tenant migration is successful. The primary reason why planning is invaluable before a migration project is because it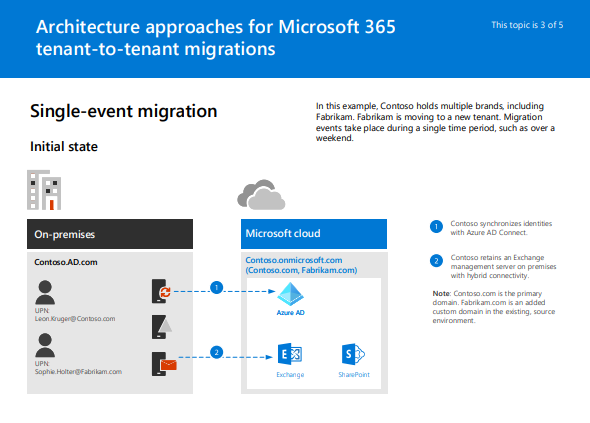 Source:- Microsoft
1. Helps you choose the correct type of Microsoft 365 tenant-to-tenant migration for your environment
An important decision for any tenant migration task is deciding between phased and big-bang migrations. A phased migration is migrating the tenant in several sets over a prolonged period. The users are grouped by departments, company units, or geographical locations, and are migrated one at a time. A big-bang migration refers to the process of migrating an entire tenant in a single event, often accomplished over a weekend. Details to be considered are company size, migration size, workloads to be moved, and organizational bandwidth to communicate and collaborate during the project.
2. Helps to plan your staffing needs for the task
Due to the complexities involved in migrations, it is essential to know the various initiatives being implemented across the organization. Planning allows you to determine use cases that administrators may not be aware of. You can look for other migration tasks that may be happening, like server, firewall, or other infrastructure changes. You can align with those groups on the migration strategies, minimizing effort and risk. Collaboration helps you bring all the team members on the same page with the migration strategy and have good resources at your disposal.
If you opt for a phased migration approach, it becomes even more crucial to have a complete overview of enterprise-wide projects. Ensuring seamless coexistence between two environments while maintaining them is a task that requires considerable time and effort, therefore it's important to ensure that you have a sufficient staff to handle it. An effective option is to employ migration experts like Apps4Rent to help you with seamless Office 365 Tenant to Tenant Migration.
5. Helps you build a robust program plan
It is necessary to have a program plan for big and complicated tenant-to-tenant migration tasks. An experienced migration consultant can coordinate and execute the program smoothly, making sure the program is successfully managed.
Also Read:- How to Fix ERR_SSL_VERSION_INTERFERENCE Error? [Solved 2023]
4. Helps you in optimizing the benefits of user interviews to their fullest potential.
Make sure to get the opinions of users when planning your tenant-to-tenant migration. The more you understand how they use the services, the better you are poised to deliver an incredible target environment. Though user interviews can be challenging to perform, especially at scale, you will find the data you derive from them is invaluable during the migration process. Dividing the interviews among the teams will reduce the workload resulting in everyone being laser-focused on user requirements during the planning and execution of the migration.
Conclusion
To summarize, a tenant-to-tenant migration for Microsoft 365 can be a complicated and time-consuming process. However, with the assistance of Apps4Rent's third-party services, businesses can streamline the process and ensure a successful migration. Apart from that Apps4Rent even offers high-quality Cloud PC Services along with 100% assistance and tech support available round the clock.