Website is the face of any business at this point in time. This online world is widely and very quickly changing in this dynamic environment. Similarly, people's perceptions and interest areas are also evolving. Thus, you also have to change your business website timely to remain consistently alive in this online world. 
There are certain practices that you have to implement in your website redesign that will allow you to increase your website's reach, traffic, UI and UX design experience, and much more. You should get your website redesigned timely to tackle the time constraints.  
In this article, we've mentioned everything you should know about website redesign. You should read this article if you are also planning to redesign your website. Let's dive in !! 
What is a Website Redesign?
Website redesign refers to a process of changing the elements and layout of your website. You need to update the format, structure, content, and navigation of your website to improve your site's performance and conversion rate. 
In the redesign, you have to seek the level of changes based on your business goals and objectives. It can also be called website rebranding, where you update the look and feel of your website. You can change the colors, fonts, and images to give an overall new aesthetic look to your website, aligning with your current trends and practices.
Read More: Web Design Trends for SMEs
Reasons Why Your Website Needs a Redesign 
Companies generally require web redesign for various reasons. Here are the mentioned legit reasons why you should redesign your website: 
Outdated Design:

Many websites were designed years ago and are unable to meet today's high-end features. Hence, you should consider redesigning your website, as it will help your website to match today's era. 

Rebranding:

When you find the need to change the overall branding of your business, you should consider web redesign. It will help you transform your website's visuals, messages, and entire positioning. 

Improve SEO and Site Performance: You should consider website redesign if you want to improve its SEO. This redesigning process consists of various search ranking-related methods, such as wise use of alternative text, HTML tags, and relevant keywords. 
Enhance Overall User Experience:

Any website needs to improve its user experience regularly. You can strategically implement the redesign if visitors find your website a little complex and don't receive a seamless experience. 

Mobile Friendliness:

In this era, most web searches are done over mobile phones. Therefore, you have to keep your website mobile-friendly to compete in this business world. You can do so while your website is redesigned, as it is a heavy change. 

Adding More Functions:

If you want to treat your visitors with more features over your website, then you are left only with an option to redesign your website. Because new features will take their own place, that would require you to change the UI and UX design significantly. 

Better Load Time:

No visitor waits for a website that takes more than a second to load. People's attention span has been drastically reducing during certain years. Thus, you have to keep your website's loading speed faster. 

Launching New Products or Services: Whenever any web design company launches a new product or service in the market, they have to make heavy changes in their overall site visuals to sell their products. This is a basic marketing practice that most companies follow, and it requires a redesign of a website.  
Improve Conversion Rate:

Website redesign is one of the widely used options for all the websites that have low conversion rates. During the redesign, professionals put some aspects in the website that directly catch the user's attention and convert to your product or service.

 
How To Create Successful Website Design Strategies? 
Step 1: Redefine Your Goals 
First, you have to analyze your old website and figure out which changes you need in your website. This analysis consists of the various essential elements of website traffic, bounce rate, conversion rate, and more. This step will help you understand whether your website requires several changes or a complete redesign. You have to prepare a list of actions that you have to complete to achieve the necessary goals for your new website.
Step 2: Look For What's Working and What Can Be Improve
When you properly analyze your old website, you will get various factors about it. Simply put, you should look at your website from a fresh perspective. In this way, you will be able to see new or required areas for improvement. You won't be required to change everything from your website; instead, you just have to make the necessary changes. To thoroughly analyze your website, you can use tools such as Google Analytics, Google Search Console, Heat Maps, and more.
Step 3: Understand User Experience and Develop A New Impression 
It is equally important for you to understand the importance of a smooth user experience. To do so, you have to thoroughly understand the purpose and intention of your targeted audience to visit your website. For instance, every user wants a website to be easily navigable. If your website allows visitors to reach any page in just a few clicks, then they will definitely come back to your website again and again. 
It will help you create a great first impression of your business in front of the targeted customers. People won't take more than a minute to judge your website, and everything will be judge only by the user experience. Therefore, user experience will help you in various factors, such as conversions. 
Step 4: Define Your Redesign Budget 
As per standard research, 63% of marketers don't have a clear idea of the required investment in web redesign. Thus, you need to create a clear budget for your website redesign based on what your pocket allows. However, you can not predict the exact amount required for redesigning your website. All you can do is set an upper limit that you can't exceed while redesigning your website. It will help you get your work done with the right amount of money. 
Step 5: Focus on Your Website's All-Core Features 
In a website redesign, there are various features that you have to focus on. You have to keep all these best practices in mind and implement them to improve your website's overall experience significantly. Here we look at all the website redesign checklists: 
Decrease Load Time –

In this redesign, you have to clear all your website's cache and make it load instantly. It will help your site to load in a few seconds, which would be ideal for your audience. 

Interactive Onboarding –

It is one of the essential aspects of a seamless user experience. When using a completely new application or website, you subconsciously want certain signs or directions that can help you use the application. 

Minimalistic and Clean Design –

Simple and clean designs are generally preferable to all users. Thus, you should remove all the cluttered web pages and any unnecessary written information or graphics. It will make your website less complex and easily navigable for your users. 

Brand Mission and Vision –

You might also need to change your brand mission and vision if mentioned in your goals. It will help you and your team craft the right key messages based on your recent mission and vision. 

Website Traffic –

Visitors generally prefer to visit the website with appealing visuals and an excellent experience. Therefore, after the redesign, you should see a significant uplift in your web traffic. 

User Experience –

Web redesign plays an important role in enhancing the user experience. Here, you have to implement certain factors in your website that drastically improve the website look, such as UI and UX design.
Step 6: Prepare Your Website Redesign ROI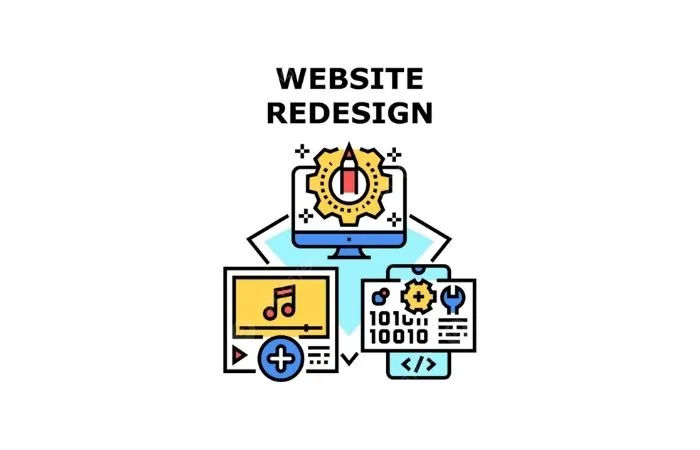 Website redesign generally turns out to make positive results on the website and increases the ROI (Return on Investment). Simply saying, you should plan the potentially generated revenue with your increased traffic, leads, and sales with the improved brand design and experience. You can utilize the KPIs (key performance indicators) to estimate the potential return on investment. At last, you can also calculate the total cost incurred in this web redesign. Hence, you will understand the amount that you potentially make after the website redesign is complete.  
Wrap Up 
Website redesign is one of the necessary aspects that keeps your business match the time. It keeps your business up-to-date and relevant to the world. You should also get the redesigning of your website from time